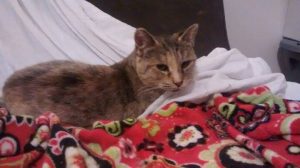 Maisy is a beautiful muted tortoiseshell with short hair and slim build. Her markings and coloration are amazing.
Maisy is young and so sweet. She started out life in a colony living outside. The person who was feeding the colony got sick and had to leave and suddenly Maisy, and her family, was without any support. But Maisy made it through until we could get her, and she has made it so clear that she is grateful and happy to have a home and loving human to be her very own. She will be a devoted and loving companion and member of a happy family. She is fine with other nice cats and would enjoy feline company. Having lived a rough time outside, she now seems like going out is not that important to her and she may be fine in a happy indoor home. About 2 years old and wonderful.
In Wasilla. Call 907 315 9510
MAISY IS SPONSORED BY NATALIE AND CAN BE ADOPTED TO A LOVING FAMILY FOR $40!