We are a foster-home based rescue; that is, all our cats live in foster homes with families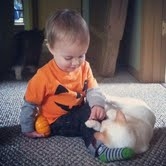 and not in cages. That way, we learn more about the cat's personality to help find a home where he or she will be happy and the adopters will be happy.
Cats can be adopted directly from the foster home. Cats can also be adopted from one of our adoption fairs either in Anchorage or Wasilla. We have adoption fairs  in Anchorage at Petzoo on Dimond and at Wasilla Petzoo as scheduled, generally each Saturday in Wasilla.
Adopting is simple. You meet the cat, talk to the foster or fair host about your home situation, fill out the adoption paperwork, pay the fee and take your new family member home.
But first you must find the cat that is right for your family.  You might meet one at an adoption event and adopt there. It's also helpful to check out our page of adoptable cats. MOST of our cats are listed there. Read the profiles of their personalities to get an idea of who might be a good fit. You can select some that interest you and call us to ask about those in particular, or you can call us and ask for help finding a good fit for your family. Call Judy at 980-8898. We're happy to help you make a good choice.
Once you've decided who you'd like to meet, you will be given the name and number of the foster family to call. You can talk to them more about the cat and set up a time to meet the cat. You can arrange a visit at the foster home, or your home, or at one of our adoption fairs.
When coming to adopt a cat, please bring a cat carrier to safely take your new loved one home in.
To adopt, you must be at least 18 years of age, have a stable home situation, and choose a cat that fits into your family. We require that you sign an adoption contract and an additional no-declawing agreement that is legally binding. (They are attached below.)
ADOPTION FEES
Adoption fees for adults are $75 (unless sponsored). The adoption fee for most sponsored cats is $40. Kittens under 6 months are $125. If you adopt two adult cats, the second cat can be adopted for $40. (The two-cat special does not apply to kittens under 6 months.)
Through our Senior Cats for Seniors program, cats 8 years or older are available to senior adopters over 55 for $30 or less.
Barn cats are available to suitable forever homes for free. Donations are appreciated to keep the Barn Cat Project alive.
If  you have questions about our process or about how to care for an adopted cat, please give us a call or email. We are happy to help make the adoption process as simple and painless as possible for adopter and the new feline family member.