While we do not condone the horrible torture of declawing cats, we do rescue many cats that have been declawed.  Many declawed cats are abandoned or given up due to issues that ultimately arise from declawing, like failure to use the litterbox because the litter hurts their tortured feet.  Often a few simple changes is all it takes to turn things around.
---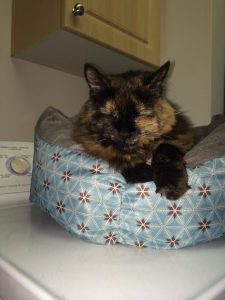 Amanda B is a lovely long haired tortoiseshell girl. She came to us declawed. She is about 10 years old and a social butterfly.
Amanda LOVES to be with people. She has been living in a quiet home with an elderly woman who recently had medical problems that means she cannot care for Amanda anymore. Amanda was the greeter in her house, welcoming friends in to visit and giving them the attention that friends should have. She is helpful with chores around the house and in general just a great cat. She has lived with other cats and dogs but she is happiest as the only one.  If you are looking for a very nice, social girl to join your settled home, please consider Amanda Blake.
In Wasilla. Call 863-1444
---