While we do not condone the horrible torture of declawing cats, we do rescue many cats that have been declawed.  Many declawed cats are abandoned or given up due to issues that ultimately arise from declawing, like failure to use the litterbox because the litter hurts their tortured feet.  Often a few simple changes is all it takes to turn things around.
---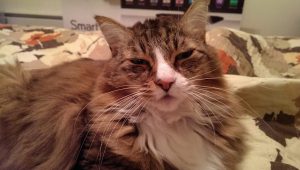 Hi, I am KC. I am a 14yo old cat who is in search of my forever home. I have been declawed on all 4 feet.
My owner's current situation has changed and he can't provide for me right now. I was recently at the vet and everything is ok with my health. I don't get along with other pets and don't like my tail pulled, so young children may be out as well. But a kind settled family would be great, where I can share snuggles and long quiet evenings on the couch together and give love and purrs.
---