While we do not condone the horrible torture of declawing cats, we do rescue many cats that have been declawed.  Many declawed cats are abandoned or given up due to issues that ultimately arise from declawing, like failure to use the litterbox because the litter hurts their tortured feet.  Often a few simple changes is all it takes to turn things around.
---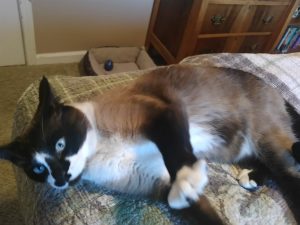 Haley is a super sweet girl who was found as a stray, and she came to us already declawed. She is thought to be about 5 years old.  She is super sweet, current on vaccinations, microchipped and ready for her permanent home. She is currently in a foster in Kenai. 907 398 9128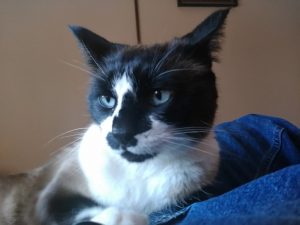 ---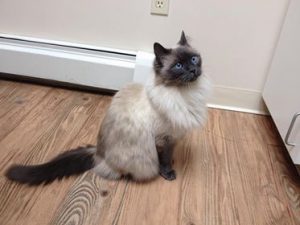 Her name says it all--Pretty is oh so pretty. A blue-eyed beauty about 10 years old, she has an ivory coat with lovely seal points. She came to us declawed.
Pretty is as pretty does. Her name describes not only the way she looks but her wonderful sweet personality. She is an amazingly lovable little girl. She adores being cuddled and given love. She does just fine with the mellow dog in the house. We haven't had her around cats so we don't know how she would do. But she is so sweet, she would probably be fine with another feline as gentle as she is. She would love a safe yard to go out in with her family.
In Anchorage. Call 980-8898
---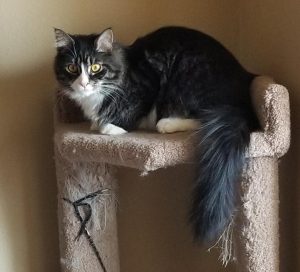 Fred is a handsome tabby and white boy about 4 years old. He has a little bit of fluff to his coat and the most awesome plume tail. He came to us declawed.
Fred is an wonderful boy. He is the sweetest guy you could imagine. He does well with dogs and other cats and nice kids. He is ready to settle into a happy family and be their beloved boy forever. He is excellent at getting along and when we first got him, he was amazing straight out of the carrier. Stepped out and said hello. He would love a home where he can be a part of things, enjoy the fun times with his family in the yard and snuggle up with them on cold winter evenings. The purrfect cat!
In Wasilla. Call 980-8898
---