Kitties with special needs who need a special home that can give them just that little bit of extra love.
---
Gray Laser Eyes is a sleek beautiful black boy with a few extra pounds. He is diabetic and needs insulin each day but that does not change his amazing sweetness.
Gray Laser Eyes is a wonderful boy who is fine with other nice cats and dogs and people. He loves to cuddle. He would sit on your lap and give you cheek rubs for as long as you like. He's maybe 7 or 8 and he still likes to get a little silly from time to time, play with a toy, entertain his family. He amazingly settled into a home with LOTS of big dogs without much problem at all. He would love to outside and do a little hunting, get some fresh air, enjoy the pleasures of a yard. He is just about the perfect cat with a great personality.
In Wasilla. Call 980-8898
---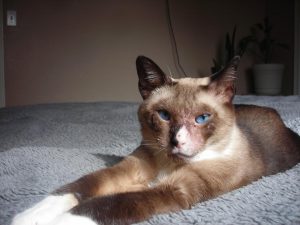 Sadie is a beauty! A snowshoe Siamese with luminous blue eyes and snow white feet, she is about 5 years old.
Sadie is an intelligent and charming girl with a need for lots of love and an independent streak. She is lovable and affectionate with her people. She would be best without other cats or dogs.  Sadie has an allergy that causes her skin to break out at times. In foster she has been on a restricted diet, and has had a steroid shot to help her heal and now she is doing great. A kind and loving human would be her perfect family, preferably adults although she has lived with children in her previous life. She will definitely need a safe place to go outside to enjoy the pleasures of nature.
In Kenai.
SADIE HAS BEEN SPONSORED BY ZOE ON BEHALF OF MYRA JEAN COLLIER! SADIE CAN BE ADOPTED TO A LOVING FAMILY FOR $40!
---