Kitties with special needs who need a special home that can give them just that little bit of extra love.
---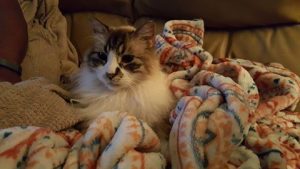 Hemingway is a special boy in so many wonderful ways. He's gorgeous! He has a lush coat and blue blue eyes. And his personality is even more amazing than his beauty. He is about 8 years old.
Hemingway is wonderful. So loving and so gentle and kind, he is the ideal cat to come home to, to spend time with, so easy to love. He is wonderful with the other cats, never causes problems. He doesn't have a mean bone in his body. All he wants is to have a loving family and happy home.
But Hemingway does have a special need for his care--he is diabetic. He is doing great with his insulin, super easy to treat and never grumpy. He is so wonderful that this small effort given to his health each day is nothing compared to the love and devotion that he will repay you with.
He's in Wasilla. Call 315-9510
---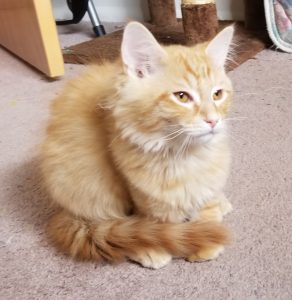 Jimmy is one of our special needs kittens. He was born with a deformity of the front legs. He is a darling little orange boy with a little fluff to his fur.
Jimmy is a sweet boy who loves to snuggle. He is a bit skittish at first, but will come to you when he is comfortable. He loves to chase feather toys and lazer lights or anything on a string. The slight deformity in his front legs don't slow him down at all! He rough-houses and chases the other kitties without any problem. He will need a very safe fenced yard where he can go with his family when the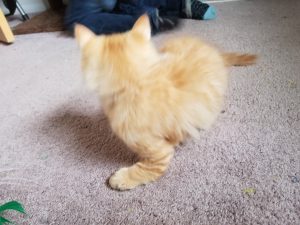 weather is nice.
In Anchorage.
---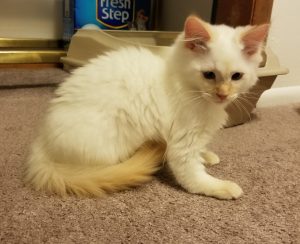 Prince Rupert is a snuggly fluff ball. He is one of the family of special needs boys who has deformed legs.
He follows his brothers around, but doesn't like to get into trouble like they do. He sits back and would rather observe. He loves to run and rough-house, but mostly enjoys laying in the sun. He will need a safe, protected yard in his new home where he can go out with his family in the summertime.
In Anchorage
---