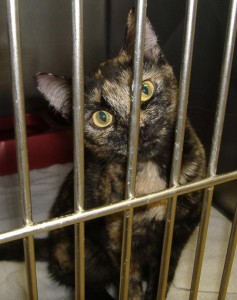 One of our biggest needs is a place to keep the rescued cats until we can find them a permanent home. There are many cats, like the little girl pictured, who are waiting and hoping that someone will offer them a safe haven out of the pound so that they have a chance for a life. And strays who are starving and freezing all alone who just need a warm shelter with food and water. If you have room for a cat or two in your home, it's one of the best ways that you can volunteer. You can save a life!
Clear Creek Cat Rescue relies entirely on foster care volunteers to provide the food, shelter, love and nurturing our rescued cats need while we are working to find their lifelong homes. In addition to healthy adult cats, foster care volunteers open their homes and hearts to pregnant moms, kittens, ill cats and those recovering from surgery. By providing foster care, volunteers save the lives of displaced cats and help alleviate over-crowding at the local animal shelters.
If you think you'd be interested in fostering one of our homeless cats, please contact us at clearcreekkitties@gmail.com or leave a message at 980-8898.
---
Frequently Asked Questions about Foster Care:
---
Who Can Be a Foster Care Volunteer?
Our foster care volunteers come from all walks of life! No experience is necessary. This program is perfect for families, college students seeking hands-on animal experience, busy professionals who can't commit to pet guardianship, and senior citizens looking to put their experience to work. Foster volunteers must be willing and able to drive foster animals to adoption events and/or to allow prospective adopters to visit the cat in its foster home or at a mutually agreeable location.
---
How Do I Become a Foster Care Volunteer?
Anyone interested in becoming a Foster Care home for Clear Creek Cat Rescue will begin by contacting CCCR. You will be asked to fill out our foster application, and if needed, a brief home visit may be conducted. A copy of the application is attached at the bottom of this page.
For more information or to become a Foster Care volunteer, please contact us at clearcreekkitties@gmail.com or call Judy at 980-8898.
---
Do I Need to Provide Any Supplies?
Yes. As part of fostering a cat, you will be asked to provide the food and litter for the foster cat. We provide all medical needs. If you need help with food, we will try to help out with that. We are actively petitioning for supply donations, and we will provide as many supplies as we can, depending on what each foster home needs. However, we cannot guarantee that we will consistently have food or cat litter available, so we ask each foster home to provide those things for their foster animal.
---
Do I Need Special Skills or Training to Become a Foster Care Volunteer?
Our program is designed to suit your experience and interest levels. Some animals require medications and veterinary treatment and some just need a warm place to stay. We'll work with you and your comfort level, provide you with necessary training, and we're always available to answer your questions. All new foster volunteers start with fairly low-maintenance foster animals, and only if they wish are given the more time-intensive foster cats.
---
What Types of Animals Need Foster Care?
We rescue cats from all homeless situations–strays that were pet cats before, unsocialized cats, feral cats, injured and sick cats, pregnant cats and queens with kittens, or litters of kittens without moms.   CCCR depends upon foster volunteers to help cats who have no other options for help; many that would die of starvation, exposure, illness or injury if left without help, and some that would be killed at the local shelters if not rescued.
---
How Long Will I be Fostering an Animal and What Type of Care is Involved?
The average stay for a foster animal is a couple months, but some foster animals can require up to 5 months to recover from illness or to find a special kind of home. Some foster animals, like newborn kittens, require round-the-clock care. Kittens and neglected animals need structured socialization and basic manners training. The majority of our adult cats simply need daily attention. We'll arrange a foster care time commitment around your lifestyle, work schedule and vacation plans.
---
Interested?
For more information or to become a Foster Care volunteer please contact us at clearcreekkitties@gmail.com or call Judy at 980-8898.
(Thank you to Larimer County Humane Society for the format and wording of much of this FAQ!)