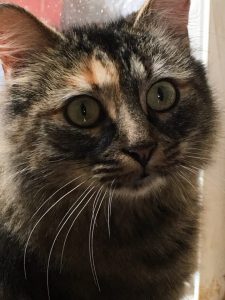 Felicity is a darling girl about 5 years old, the purrfect age for a family.  She has cashmere soft medium length hair and pretty camouflage pattern of warm colors.
Felicity is friendly and lovable with her people. She enjoys being pet and cuddled and would love to have her own person to curl up with at night. She does just fine with other cats but dogs scare her. She would be a nice girl for a family with older children and a yard where she can go outside sometimes. She's a wonderful kitty ready for a loving family.
In Wasilla. Call 863-1444
FELICITY IS CAT OF THE MONTH AND CAN BE ADOPTED TO A LOVING FAMILY FOR $40 DURING OCTOBER!