Who Are We?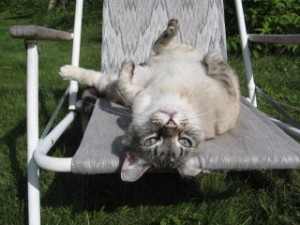 Clear Creek Cat Rescue is a group of individuals in Southcentral Alaska and the Kenai Peninsula dedicated to rescuing cats in need, giving them care, rehabilitation if needed, and finding happy homes for them.  We each give what we can to help these cats get through this most unfortunate time in their lives when they have been taken to the pound or are otherwise lost and homeless. Some of us share our homes with these cats while they are waiting for their forever family, some transport them from place to place, some host adoption fairs,  take pictures, post ads. Some offer financial help. We each do what we can to help. And through this dedicated group of people, about three thousand cats have been saved and found loving homes.
What Do We Do?
Clear Creek Cat Rescue was originally founded to help find homes for the Mat-Su Animal Shelter's cat population. Gradually we have expanded to cover a broader portion of the state and to take in cats that are strays or otherwise homeless.  We rescue cats from the Mat-Su, Houston, Kenai, Soldotna, and Homer shelters as well as homeless cats from southcentral and Kenai, Dutch Harbor, Bethel and other areas of the state. CCCR also takes in homeless cats of all kinds, including ferals; we also sometimes accepts cats from private individuals and other rescues when there is a need.
Through our Barn Cat Project, we trap, spay/neuter and vaccinate feral and colony cats, and rehome them to welcoming barn homes.
What Do We Believe?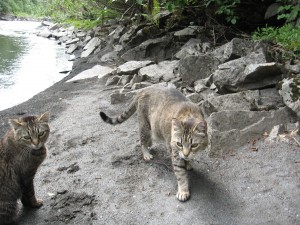 CCCR believes that cats need and have a right to the outside as much as humans or dogs.  We therefore encourage adopters to provide a safe place for their new family members to go outside, to feel the sun on their face and the wind in their hair, and to enjoy the wonders of the natural world. Over the years, we have discovered that many of the now-common health issues with cats relates directly back to the condition of being locked inside and never being able to walk on the earth or have the sense of freedom that cats, and other creatures, need for a happy life.
We are adamantly opposed to declawing. Because declawing is a painful and unnecessary procedure which has no benefit to the cat, we will NOT adopt a cat to anyone who would declaw. Please see our page on declawing for more information on this reprehensible practice.
CCCR does charge adoption fees. The usual adoption fee for an adult cat is $75; for kittens under 6 months, the fee is $125. We do have many sponsored cats whose adoption fee is $40. Under our Senior Cats for Seniors program, cats 9 or older can be adopted to seniors over 55 for $30. Barn cats are available to suitable barn homes for a donation. (All cats are spayed/neutered, vaccinated and micochipped.)  Because we believe that people with lesser income can provide as good a home for a cat as those with more money, we will, in some instances, adopt a cat to a family that cannot afford the full adoption fee.
---
A LOOK AT 2017!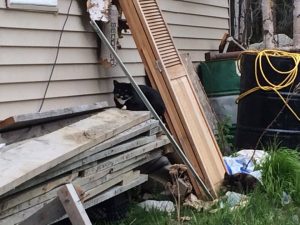 In 2017, Clear Creek Cat Rescue rescued 410 cats! We took in 360 strays, 38 owner surrenders, and 12 from animal control facilities; 64 were kittens and 346 were adults. Fifteen cats were returned to their owners. We adopted out 338 in 2017 (includes cats in foster from 2016).  Diseases, starvation, dehydration and injuries claimed the lives of 15 of our feline friends. We started the year with 63 cats in foster and ended the year with 101 still in our care. (Our lifesaving percentage was 96% for 2017; of the 410 cats that we rescued, 276 were rehomed.)
Our rescue is dedicated to taking in cats that are most in need as our first priority—strays found outside, the starving, cold, or injured.  We also focus on colony (feral) cats when we have the volunteers and money to help them because these cats have no other options. We rescued and rehomed to barn homes dozens of feral/colony cats who were in danger of not surviving.
We provided dozens of cat owners with needed food, litter, and in some cases, funds to help with emergency vet care. We also supplied cat shelters, heated water bowls and heated beds to people who had cats living outside.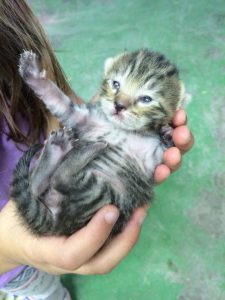 Thanks to all our wonderful fosters, volunteers, contributors and supporters who made it possible to give so many cats a chance for a better life. We hope 2018 will be another year of making a positive difference in the lives of felines in Alaska. If you would like to help in this mission, please check out our How to Help page, or call us at 980-8898.
BE THEIR HOPE FOR THE FUTURE!