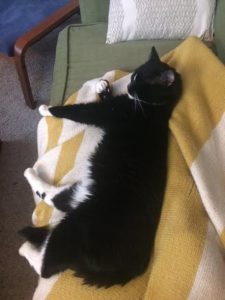 Just wanted to say thank you for your work in rescuing and connecting us with Gabriel! We have renamed him Sig (short for Mysig which is the Swedish word for "cozy.") He is a great cat and perfect for our family: laid back, very affectionate and cuddly, curious, well-mannered. We love him a lot and are so glad to have him! It's crazy to think that he was due to be euthanized this month – he's such a sweet guy in his prime – and we have you to thank for preventing that from happening!
He has settled in to our house pretty quickly this week
and has his routine down – he's now the king of the place
and has already been nominated for Chief Fly Hunter and
Best Bird Watcher 🙂 We sure love him.
(From Sig's happy family)