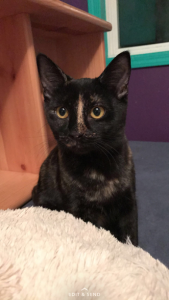 Lola is a beautiful little girl with a dazzling tortoiseshell coat, like a dappled autumn forest. She is slim, short haired, about 6 months old.
Lola is a darling little thing who loves to be pet and cuddled. She is shy with human strangers and will take time to settle in and trust new people. But once you win her trust, she will give you her heart. She is great with cats and will need a cat friend in her new family.  Lola will be the little love and joy of some very happy family.
In Anchorage.
LOLA IS SPONSORED BY CONTESSA AND CAN BE ADOPTED TO A LOVING FAMILY FOR $30!