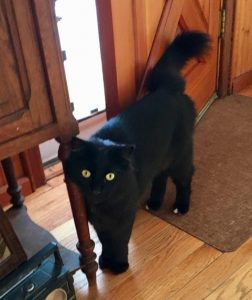 Norman is a sleek boy, short haired ebony coat that always looks neat. He is a frisky wonderful young fellow about 2 years old.
Norman is a lovable guy whose main focus in life right now is hunting. He LOVES to go out and hunt. He's a great guy with other nice cats and dogs and he would be fine with gentle children. He is absolutely the perfect cat for a family with some outside space where he can go out and take care of the rodent problem part of the time, and come in and cuddle on the sofa next to his people the rest. An all around terrific boy!
In Homer but he could travel for the purrfect family.