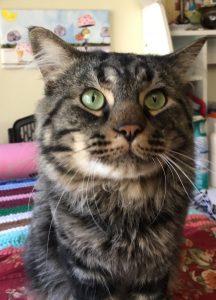 Bubba is a handsome Maine Coonish guy about 3 years old. He has a sweet gentle nature.
Bubba is such a quiet kind boy. He was left behind by his family when they moved and found later in the apartment, scared and hungry. In foster, he has come to understand that he is loved and will purr his little heart out for some love and affection. But then he goes back to his lounging place and quietly naps. He is okay with the other cats in the house; not the least bit aggressive. He will be shy with new people but all he really wants is to be loved and cared for. When he's bonded with his new family, he would like a safe yard to nap in and enjoy a life with more than 4 walls.
In Anchorage.
BUBBA IS SPONSORED BY SARA AND FAMILY AND CAN BE ADOPTED TO A LOVING FAMILY FOR $40!