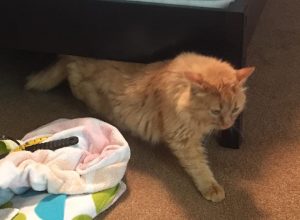 Larry is a fluffball of love! Golden like the sunrise, he is maybe a year or two old and gorgeous.
Larry is a sweet boy who came from a colony of cats. He really would like a girl cat friend who would welcome him into the home and be his companion. He loves his people. He loves to hang out with them and get cuddles. And he loves to go outside and help with garden chores, maybe even take care of any rodent problem. He is a friendly and lovable boy ready for a great forever family.
In Wasilla. Call 863-1444.