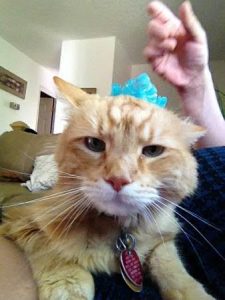 He's a neutered male orange haired (med/long) domestic.
He is 16/17 years old, clawed, chipped and wearing a collar with tags.
 He's really scruffy looking (due to a bad haircut to remove mats) and is super vocal.
He is an indoor kitty and not used to being outside. He has  arthritis and is incontinent.
He went missing 6:00 p.m. on 8/30/16 from Eastway Loop/Campbell Airstrip Road area Anchorage, AK
Please call  907-717-9095 if you find this boy.