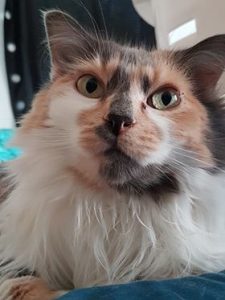 Tina is a beautiful long-haired calico girl. She is a bit chubby and soft as a bunny. She is about 5 years old.
Tina is a sweetie. She loves her people. She likes to be pet and to share time with her family. She does great with calm, gentle humans, even if they are young although a chaotic child home is not the best for her. She does love to play with a mouse on a string and to roam around, exploring the house. She would enjoy a little yard too where she can go with her people to bask in the sun or snooze in the grass. She does fine with another mellow cat and will even play with a cat companion at times. She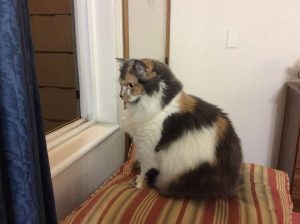 will need an owner who can help her lose a little weight, slowly, and brush her daily.
She is in Homer but can travel for the right adopter.  907 980 8898