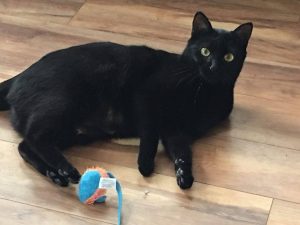 Lotus is a very beautiful girl. She is as lithe as a dancer and has a lovely ebony coat that shimmers. She has a short tail so it's possible that she has Manx in her background.
She is a quiet girl. She prefers to sleep on the bed and enjoys the company of other cats. She is ok with dogs that leave her alone but will attack dogs that are too curious or in her space. She does love attention. She likes to play with toys and can be very rambunctious at times. She is spooked by loud noises so young kids and a rambunctious household is not for her. Lotus does have one eye that may periodically need cleaning due to a kitty cold when she was younger. She is about a year or two old. She will need a safe place to go outside when the weather is good and she is adjusted to her new home.
In Wasilla. Call 980-8898
LOTUS HAS BEEN SPONSORED BY CATKIND.COM AND CAN BE ADOPTED TO A LOVING FAMILY FOR $30!