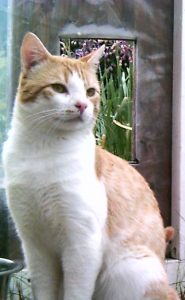 Jambo is a handsome young fellow in orange and white. He is short haired, muscular and long. He is about 10 months old and will be a BIG boy when he's finished growing.
Jambo is an easy going, fun kitty who will fit into any loving family. He melds into a house full of cats with no problem at all. He races around and plays with others all in fun. He likes to romp and wrestle with those want to wrestle but is pretty careful to not annoy those who would rather not. He loves to cuddle up next to you and he will sit in lap for long hours on a quiet evening. He does well with polite children and enjoys being pet by them. He loves to go outside and explore and hunt and will need a safe area where he can enjoy his hunting activities, as well as a cat friend.
He's in Homer but could travel for the right home.