Domino and CB are good looking boys who are bonded; they have lived together since CB was a kitten. Domino is a striking Russian Blue boy about 6 years old. CB is slightly fluffy and appears to have ragdoll in his ancestry; he is approximately 4 years old.
Domino and CB are a great pair. They're buds. They hang out together and are happy being in each other's company. They love to go outside and hunt, enjoy the wonders of the natural world. They are excellent rodent catchers.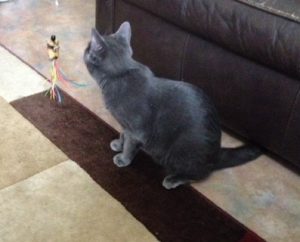 Domino has lived with a dog in his past life; we don't know about CB.  With this great pair of boys, you would not have to worry about your cat being lonely while you're at work. They are friendly, lovable boys who will be a great addition to any loving family with a good hunting area.
In Anchorage. Call 980-8898
They can be adopted together for $100!