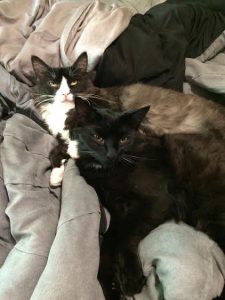 Diesel and Sister are looking for a new home where they can be indoor/outdoor cats. They are brother and sister and about 3 1/2 years old. They are always excited to see their human when you get home and love cuddling and attention. Diesel sometimes seems more like a dog than a cat being curious and following you around. Sister is a little more timid but just as loving and affectionate. Both are good with dogs and children.
Diesel and Sister are being rehomed only because they love to go outside and at their present home, the neighbor is threatening. They MUST have a safe outside area to hunt and play and be natural cats.
In Eagle River.
They can be adopted as a pair for $100.