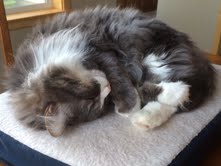 Know that Bella is truly Loved!   She has a cushioned pad on a high place where she retreats for afternoon naps and where she lies on the DR table while I'm sitting and knitting!  She has hassocks under two windows (each side of house) where she enjoys outdoor air incoming through screens and a safe view through the glass of the moose who visit Bella's yard during this
winter season!  She receives a daily brushing at a minimum and more often when she rolls and displays her belly, begging for a brushing.  She loves to attack the red laser dot and has a catnip-filled mouse that she "hunts" each
night and carries into the bedroom with the mouse in her mouth, all the while fairly screaming her victory song!  She loves overnights on the bed alternating with a favorite floor vent when she overheats from the electric blanket's radiant heat (our furnace circulates now near frigid outside air on a random schedule).  Her personality is so gentle yet deep inside, we know lurks the heart of a tiger.  (We've seen her pounce on that catnip mouse!) She is truly Beautiful Bella … and we thank you for helping us to add her to our family.
From Bella's loving family