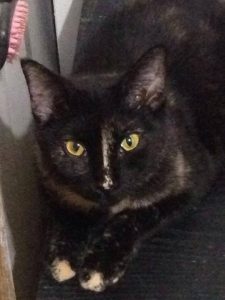 Voodoo is a petite Torti girl about 1 year old. Her new home will need another cat and a laundry basket.
Voodoo is shy around humans and needs the security of another cat. Voodoo let's her foster parents pet her only once she sees the other cats are petted first. She is most relaxed in a laundry basket and even lets the humans rub her belly when she is in her basket. She does fine with dogs. Voodoo is spayed, vaccinated, and microchipped.
In Wasilla 863-1444
VOODOO IS SPONSORED BY LISA AND BOBCAT IN MEMORY OF CAMMIE-CAT AND CAN BE ADOPTED TO A LOVING FAMILY FOR $30!