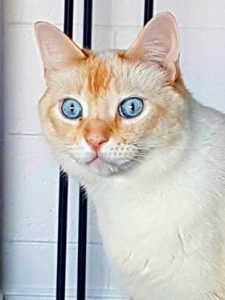 Charles Bernard (Charlie Bug) is a very fun and sweet 5 year-old guy with a tiny independent streak that makes him a wonderful companion for a small, quiet household with older children, an older couple, or a single person. Loud, frenetic situations make him nervous but if things are calm and quiet – he is a hoot!
He is a gorgeous red-point Siamese with silky fur and brilliant blue eyes. On the one hand, he likes to cuddle, nap, and stay close to you and on the other – he turns into a playful kitten chasing his tail and playing "chase" with you. If you talk to him, he'll respond and talk with his deep little meow. If he hasn't seen you in a while like in the morning after you wake up, you'll be sure to get a report of all the goings-on that happened at night as he waits to get his breakfast. Sometimes he's ready for some alone time and he'll let you know with his twitchy tail…the more twitch, the more he's trying to tell you to please allow him some time and space. Usually after a nap – he's right back to being a fun and funny love bug. He doesn't scratch furniture preferring instead a flat, corrugated cardboard scratch pad.
He would prefer to be the only, though could possibly be okay with a mellow female, but he might be fine with a laid back dogs that does his own dog thing and lets Charlie do the cat thing without interference. He's a great guy who will need a safe place to go outside sometimes. He was homeless for a while and so he's been there, done that, not interested in staying out long but a stroll in the yard would be great.
In Wasilla. Call 980-8898