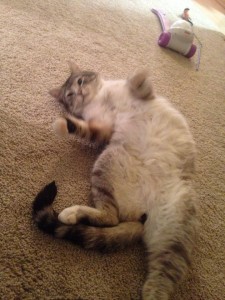 Tyler is a gorgeous Siamese boy with a soft lovely coat and those amazing blue eyes.
Tyler is such a love. He very much enjoys cuddles from his people and will purr his little heart out to be snuggled up. He does fine with both cats and dogs who are not intimidating. But he is a reserved, quiet fellow who should not be subjected to other critters getting in his face. He did just fine with gentle children but will seek cover if a squealing toddler runs at him. So a home with less chaos would be best for him.
Tyler is a wonderful handsome boy who is ready for a loving mellow home.