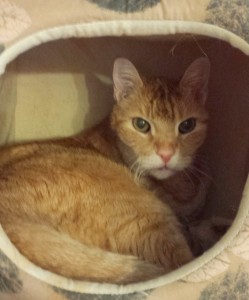 Todd is a handsome golden boy who had been declawed sometime earlier in his life.
Todd is a lover whose only dream has seemed to be to have a happy home. He is a senior cat, maybe 10 years old, who has weak kidneys that cause him to not feel well some days. He gets special food and kidney 'treats', and regular subQ fluids to help his kidneys flush out toxins. He is in a foster home with other cats, where he is welcome to stay for his lifetime. But if there was a family who had less critters and who had time to give this wonderful guy more one on one attention, that would be great too.
A sponsor to help with his medications and treatments would be much appreciated.