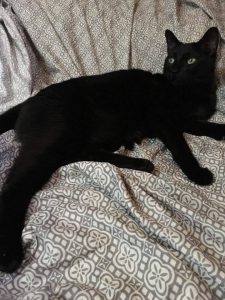 Tim is a sleek haired boy with an ebony coat. He is about 5 years old. He came to us declawed.
Tim is a lover. At first it was hard to tell. He was in so much pain. Tim had a bad declaw at some point in his life and it has caused him to suffer so much that he didn't want to walk around and he felt fearful and depressed. He was taken to the pound because his human thought he just needed a different kind of home where he would be happy; there was no consideration that he was in pain. We rescued him and once in foster, given supplements to help with inflammation and some pain meds to give him some relief, he started to show what a loving sweet boy he really is. He is okay with other cats and mellow dogs, but he doesn't need to be intimidated by others. He is SO affectionate with his people, just a wonderful boy. He does great with older kids, loves to be loved and give love back with lots of purrs. He loves to go outside and will need a safe place to enjoy the wonders and joyful diversion of the natural world.
In Wasilla. Call 863-1444
TIM IS SPONSORED BY BOBCAT AND LISA AND CAN BE ADOPTED TO A LOVING FAMILY FOR $40!