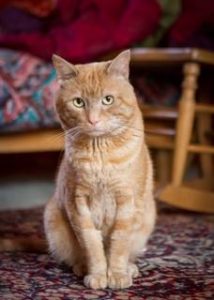 Sunny MacOrange is a warm sunrise color that reflects his amazing personality. He is short haired and muscular with cute chubby boy-cat cheeks.
Sunny is the most actively affectionate cat I have ever met. He loves loving. And he doesn't hide that from his beloved person. He loves to give kisses and face smooshes and heat butts. He does the sweetest little love nips, just a tiny click of his teeth like he is picking off a flea. He will roll over on his back in your arms and give you that look like you are the one and only in the world. He is a super wonderful cat. He does everything with energy and enthusiasm, even the way he goes to his food bowl. He trots.
Sunny came to us as a wild cat who hissed and spit from his cage when he was approached. But once out of the cage, and given a little time and attention, he revealed that he was not wild at all, had never been wild. He was just scared from his time outside lost or abandoned, on his own in the scary world trying to stay alive. Suddenly he was rolling in his foster's arms, letting her trim mats and cut nails.
Sunny needs a human who has a quiet settled home, and the patience to give him time to trust, AND who has lots and lots of love to shower on this wonderful cat as he returns every bit of affection many times over. He needs his own space, preferably his person's sunny bedroom where he can share lots of huggable time together (he loves to nestle up against you to sleep). He may want to go outside again someday in a very safe yard. Or he may be happy just having his own home and special person and the assurance of safety and love forever.
He's in Homer. Call 980-8898