Older cats are often an excellent choice for an older adopter.
---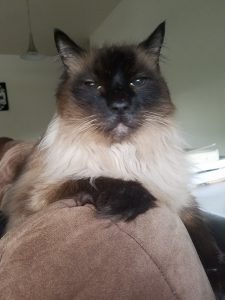 Squirrel is a gorgeous blue-eyed Himalayan boy about 12 year old. He came to us declawed.
He is really friendly with people, he loves being the center of attention when guests are over so he is quite social. He is a great people cat but is somewhat wary of other animals. He's met some that he gets along with (mellow dogs and female cats) but he seems to have a hard time getting along with other male cats. He isn't really and outdoor cat at all. He's a really good companion and is very sweet, loves to follow his person around the house and help with chores.
In Anchorage.
---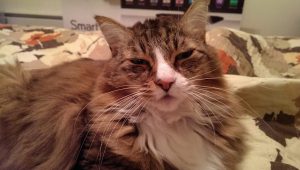 Hi, I am KC. I am a 14yo old cat who is in search of my forever home. I have been declawed on all 4 feet.
My owner's current situation has changed and he can't provide for me right now. I was recently at the vet and everything is ok with my health. I don't get along with other pets and don't like my tail pulled, so young children may be out as well. But a kind settled family would be great, where I can share snuggles and long quiet evenings on the couch together and give love and purrs.
---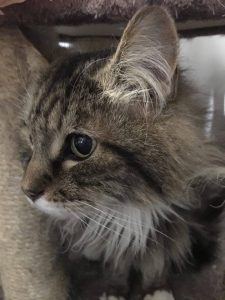 Georgie is a handsome medium haired gentleman, about 10 years old. He is small and fluffy. He came to us declawed.
Georgie is very sweet and cuddly. He is such a nice boy who is fine with other cats and tolerant of mellow dogs. He is almost an insta-cat, one that immediately is friendly and snuggly. He will sleep with you and purr for pets. He would be a perfect family cat for a kind gentle family.
Neutered, vaccinated, and microchipped. In Wasilla 907-863-1444
---