Older cats are often an excellent choice for an older adopter.
---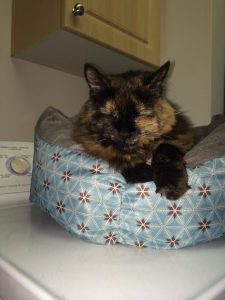 Amanda B is a lovely long haired tortoiseshell girl. She came to us declawed. She is about 10 years old and a social butterfly.
Amanda LOVES to be with people. She has been living in a quiet home with an elderly woman who recently had medical problems that means she cannot care for Amanda anymore. Amanda was the greeter in her house, welcoming friends in to visit and giving them the attention that friends should have. She is helpful with chores around the house and in general just a great cat. She has lived with other cats and dogs but she is happiest as the only one.  If you are looking for a very nice, social girl to join your settled home, please consider Amanda Blake.
In Wasilla. Call 863-1444
---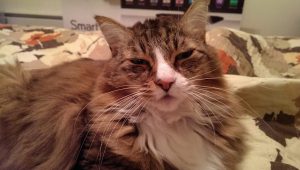 Hi, I am KC. I am a 14yo old cat who is in search of my forever home. I have been declawed on all 4 feet.
My owner's current situation has changed and he can't provide for me right now. I was recently at the vet and everything is ok with my health. I don't get along with other pets and don't like my tail pulled, so young children may be out as well. But a kind settled family would be great, where I can share snuggles and long quiet evenings on the couch together and give love and purrs.
---