Often cats end up in our care who are difficult to adopt out due to special medical needs or age or personality quirks. We do NOT euthanize these cats, but strive to find homes where they will be taken care of for their lifetime. If an adopter is not found, the cats go to live in one of our sanctuary homes, which are private homes where the cats can live out their lives as a member of the family.
These cats generally have considerable medical needs that the rescue must provide. Therefore, we encourage caring people to support a sanctuary cat by becoming that cat's sponsor. For $10 a month you can help provide for the needs of these special cats.
---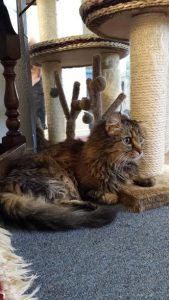 Mew Marie is a lovely little girl who enjoys long naps in her special bed and warm evenings on the sunny deck. She turned 18 on February 12, 2017.
---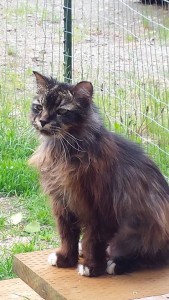 Yoda is a big ole handsome boy who is a total love. He is about 14 years old. He spent almost all his life in a no-kill shelter. When he seemed to be on his deathbed with seizures and semi-paralyzed limbs, we rescued him to give him a hospice type home for the last days of his life. But no, Yoda was not ready to pass on. He perked right up; his legs started working just fine and he hasn't had a seizure for months. And he's found lots of girl cats in his foster to charm and fall in love with. He even races up trees sometimes!
Darling Yoda passed over the rainbow bridge February 14. May his sweet spirit run free and happy forever.
---