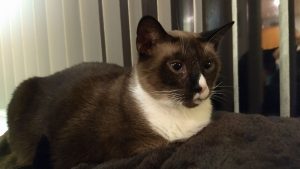 Sadie is a beauty! A snowshoe Siamese with luminous blue eyes and snow white feet, she is about 5 years old.
Sadie is an intelligent and charming girl with a need for lots of love and an independent streak. She is lovable and affectionate with her people. She would be best without other cats or dogs.  Sadie has an allergy that causes her skin to break out at times. In foster she has been on a restricted diet, and has had a steroid shot to help her heal and now she is doing great. A kind and loving human would be her perfect family, preferably adults although she has lived with children in her previous life. She will definitely need a safe place to go outside to enjoy the pleasures of nature.
In Kenai.
SADIE HAS BEEN SPONSORED BY ZOE ON BEHALF OF MYRA JEAN COLLIER! SADIE CAN BE ADOPTED TO A LOVING FAMILY FOR $40!