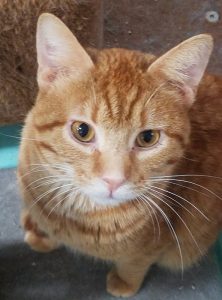 Nelson is an orange short haired tabby boy that is about 3 years old. He's sleek and well groomed and very handsome.
Nelson is a sweetheart. He is the PURRFECT cat. He is lovable with his people, great with other nice cats and very tolerant of nice dogs. He really likes having cat friends. He cuddles with his buddies and gives them grooming kisses and he even likes to play. He has not been around small children but we think he will do fine with them and he would be a great fun friend for older kids. He will need a safe place to go outside with his new family. This gorgeous guy is an all around wonderful fellow just waiting for that lucky family who will make him a part of their tribe
In Wasilla. Call 863-1444.