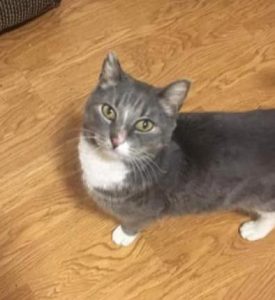 Lyra is a lovely sweet girl in a soft tabby coat with a delightful little white streak down her nose and little white boots.
If you're looking for a sweetheart cat, you couldn't do better than Lyra. She is gentle, loving, kind. She is fine with other cats, ready to be friends if they will like her. She loves to be pet and so much would love a gentle loving family to be her very own. She was found outside in the winter, emaciated and freezing, standing by the street as if she had given up hope. She has lost the tips of her ears to frostbite. But now, she is starting to believe again that there is love and kindness in her future. She is maybe a couple years old and a most delightful feline. She will need a safe yard in her new home where she can go outside to enjoy the summer weather but not be abandoned.
In Anchorage.
LYRA IS SPONSORED BY LISA, HER RESCUER, AND CAN BE ADOPTED TO A LOVING FAMILY FOR $30!