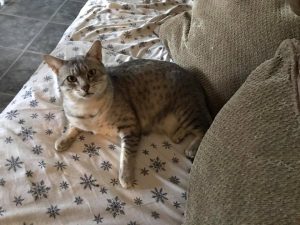 Leo is gorgeous. He has distinct spots that give him the exotic look of a Bengal or Ocicat. He is about 6 years old and a little bit chubby (all the better for cuddling).
Leo is a big, lovable lap cat. He would be happy to warm your lap and heart for the whole long winter. He likes other cats and friendly dogs and would be a great companion for another welcoming critter. He would also love a safe outdoor area.
If you think Leo could be your guy call 631-1901 in Wasilla.