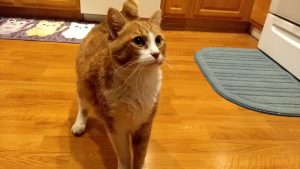 Kitty is a gorgeous short haired boy in sunshine orange and white.
Kitty is the sweetest guy ever! He will purr at the drop of a hat, or the slightest touch. He is a special boy with some special needs, and worth every effort made for him. He was likely born to a mom that had been exposed to distemper. And so he ended up with a bit of a wobble. He gets around fine, uses the litter box. That is not a problem. But sometimes he just tends to lean over, or trip on some mysterious obstacle. It is also possible that Kitty is losing his eyesight, possibly a result of exposure to the virus in the womb. But what an amazingly wonderful boy he is! He gets along with all the other cats and is great with people. All he needs is a stable loving family that he can share all his love and happiness with. He will bring so much joy to his people; there could never be regrets for making this sweetheart a part of the family.
He's in Kenai. Call 398-9128
KITTY IS SPONSORED BY JULIE AND FAMILY; HE CAN BE ADOPTED TO A LOVING FAMILY FOR $40!