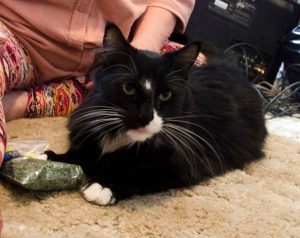 Kingston is about 9 years old, very soft medium length hair that rarely tangles.
Kingston is a junk food junkie  (but being introduced to higher quality cat food) and possibly a kitty crack addict. He **loves** his Matanuska Thunder catnip. He also loves being combed, and lap/attention time. Playful but overall fairly quiet. He would be fine with a dog that ignores him and has lived with dogs he loved. Great with other cats.  He is a smaller boy and weighs 10.5 pounds. He will need a safe place to go outside.
In Wasilla. Call 980-8898
KINGSTON IS SPONSORED BY CONTESSA AND CAN BE ADOPTED TO A LOVING FAMILY FOR $40!