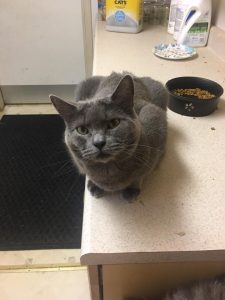 Gray Bear is a handsome neat Russian Blue guy. He's a big boy and always well groomed.
Don't let that serious face fool you. He is an affectionate young man at just about 3 years old. He likes attention but isn't demanding and is content to just be part of the family. He is scared of young children so would do best in a home without kids. He might do okay with teenagers. He will need to have a kitty friend in his new home and a safe place to go outside on nice days.
In Palmer. Call 350-8089
GRAY BEAR IS SPONSORED BY NATALIE AND CAN BE ADOPTED TO A LOVING FAMILY FOR $40!