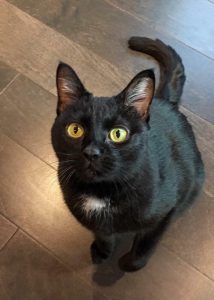 EmmyLou is a lovely sleek ebony girl with a little white pendant. She is about 3 years old.
EmmyLou is a sweetie who has  gone through a rough patch. She ended up at the Homer shelter and was thought to be feral and so kept in a cage for months. When the new management came in it was soon discovered that EmmyLou was nowhere near being a wild kitty. She was just scared. She went to a foster home and very quickly showed that she was a darling girl who just needs her own family to love her. She does okay with other mellow cats and dogs, but she would be so happy to have a home and family of her own, one that will never go away and leave her without the love she so desperately needs. She will need a safe yard to go outside and lots of gentle cuddles.
In Anchorage.
EMMYLOU IS SPONSORED BY KEVYN AND DAVE AND CAN BE ADOPTED TO A LOVING FAMILY FOR $40!