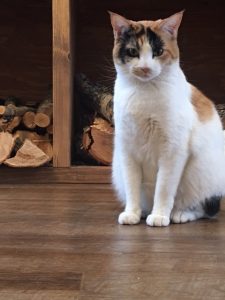 Ellie Mae (EM) is a 2 year old Calico sweetie. She's nothing but wonderful. She has a short haired coat in the lovely striking calico colors.
EM is a lover! As a matter of fact, we couldn't get a good pic of her because as soon as she noticed her foster, she'd run up for pets!
💞She loves cuddling under the covers and her favorite thing is drinking water from a faucet. She loves to tell you when she wants something, and she will nap with you. Likes dogs and would do best with older kids as she doesn't like love forced on her. Ellie Mae a skilled mouser and loves being outside in the summer, so you must have a safe yard for her.
In Anchorage. Call 960-0096