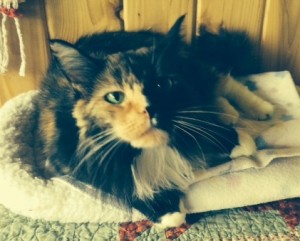 Dolly is gorgeous! A fluffy calico girl with a yin/yang face, green eyes, and the cutest little white tippytoes.
Dolly is a sweetheart. Gentle, easy going, wanting to please. She loves to hang out with her people and just be loved. She likes attention but she is not demanding. She has excellent house manners and a desire to be a good girl and be a happy part of the family. Just fine with mellow dogs but is scared around other cats. She is about 3 years old.
Dolly is  a lovable sweet beauty looking for a happy family to be a part of.