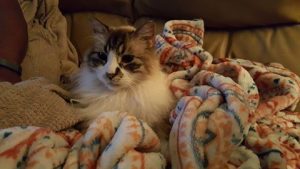 Hemingway is a special boy in so many wonderful ways. He's gorgeous! He has a lush coat and blue blue eyes. And his personality is even more amazing than his beauty. He is about 8 years old.
Hemingway is wonderful. So loving and so gentle and kind, he is the ideal cat to come home to, to spend time with, so easy to love. He is wonderful with the other cats, never causes problems. He doesn't have a mean bone in his body. All he wants is to have a loving family and happy home.
But Hemingway does have a special need for his care–he is diabetic. He is doing great with his insulin, super easy to treat and never grumpy. He is so wonderful that this small effort given to his health each day is nothing compared to the love and devotion that he will repay you with.
He's in Wasilla. Call 315-9510