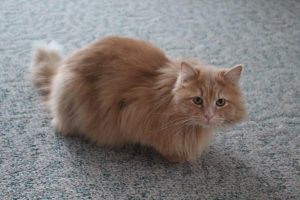 Beans is gorgeous. He has a lush long golden coat. He's a big boy about a year old and has the large frame and stature of a Maine Coon.
Beans loves sleeping on the bed with her person. He does very well being good at night and not causing trouble. But then morning comes and he wants to have fun! He is great going for walks with his person and playing chase around the yard. He's an excellent hunter. There's never a dull moment with this guy. He is obsessed with food and will be your best friend if you feed him. He's a young guy and is super charged with energy that he needs to use by playing outside, hunting, going for walks with his family. He does okay with the other cat in the house who knows how to discourage him from being too nuts. We don't know about dogs.  But he can be aggressive with other males outside that he meets. He is so exuberant he is probably too much for little kids. He's a great guy for a home with lots of space for him to roam and lots of activities to keep him busy till it's time to cozy up for a long restful night.
In Kenai.
BEANS IS SPONSORED BY RUTH IN MEMORY OF FLUFFY PERFECT PETE AND CAN BE ADOPTED TO A LOVING FAMILY FOR $30!