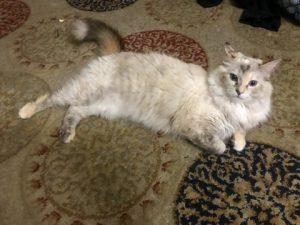 Sherbet is a total and utter love! This adorable, long haired Siamese sweetie is about 2 years old. She has blue blue eyes and a little touch of tiger stripe on her forehead.
Sherbet is the cuddliest cat ever! Loves kids, other nice kitties AND isn't afraid of dogs.
She can't get enough love. She will need a place with loving family that will give her attention and affection, and where she can go outside in the summertime with her family to enjoy the beautiful outdoors.
In Anchorage. Call 960-0096